If you have an e-commerce website and you are thinking that your work is done by just creating a website, then you are going in the wrong direction.
Every website present over the internet needs promotion and well-optimized structure. So in this post, we will discuss the 9 tips to make an e-commerce website search engine friendly.
Eye-catchy and engaging product descriptions
Your audience will see your product in the way you define it. So always try to showcase your product that it should directly hit to your audience.
When your customers come to your website they should find all the things about the product that they are searching for.
On the other hand, your product description should be optimized properly with keywords and it should completely define your product.
Despite having a common product, if your product page copy is strong you can win the race even in tough competition.
Many online stores just copy and paste the product description directly from the manufacturer, which is not the correct way. Because the product description available on the manufacture website is not properly optimized and written in a somewhat technical language which is not easily grasped by the normal users.
Your product page description should be written in the layman language, that must be easy to understand by maximum audience.
Your page description should not be full of those complicated words that the visitor on your website will have to find it in the dictionary and it should be written in 4th-grade grammar.
Join seo course in Delhi to learn ecommerce SEO
Structured Data improve search results and CTR
Have ever noticed when you search for some product on Google and there are some listings with star ratings and reviews.

Those stars are visible due to structured data which enhances your search results and website visibility. You can implement structured data from search engine console.
Mobile optimization
This era is dominated by smart mobile phones, people usually do all daily needs work on mobile, some people still search from laptop or desktop but almost all the market is dominated by mobile phones.
So observing this need, you should do mobile SEO optimization for your website for better user experience on the mobile phone.
Two or three years ago, Google brought its algorithm update for mobile that was focused on showing improved search queries. So now it becomes very essential to optimize your e-commerce website for mobile as well.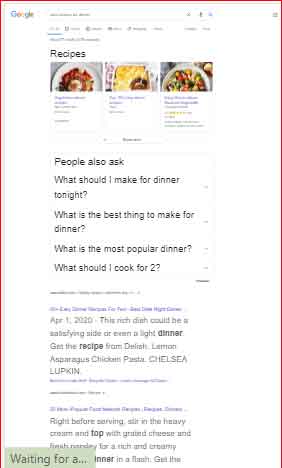 All this mean is when Google shows the search result for mobile queries, it gives priorities to mobile-friendly websites than the original version of the website. Following that update, all the eCommerce owners have started optimizing their website for mobile.
Google also introduces its mobile-friendly tester tool to help the developers, with this tool creating a mobile-friendly website has become easy.
This means that when Google makes their website rankings, they pay more attention to your mobile site than your desktop site. Since the majority of eCommerce website shoppers either start or finish their purchase online, you MUST focus on the mobile experience.
A good place to start is by plugging your site Google's Mobile-Friendly Tester tool.

Increase site speed
Google prefere those websites in SERP which have high loading speed because generally users skip those websites which are slow in loading.
Increased page speed improves the user experience that indirectly indicates Google bots that this website has good user experience, so always consider page speed a ranking factor in search engines.
Make sure that your image, videos or other graphics are properly optimized because heavy images slow down your website loading speed that affect user experience as well.
So always remember to compress your website images using plug ins or any tool.
PageSpeed Insights Google Developers

You can use the most popular tool to optimize your web pages i.e Google's PageSpeed Insights

GTmetrix | Website Speed and Performance Optimization

All these advanced topics can be learned by joining the Digital Marketing Course in Delhi.
Includes long tail keywords in blog section
Content always remains an important ranking factor but in ecommerce product page description, it is not possible for us to include long tail keywords in it.
So you can add a blog section and write fully optimized content there. Like if you are selling running shoes, then your blog content should be related to running, jogging and how to pick running shoes etc. and optimize it with long tail keywords.
You can also add "how to" questions in your blog and create a resource for the people where they can find information about shoes.
Prioritize navigation
Ecommerce ranking is all about user experience, if you provide a proper path to go through your website, the user would be able to find everything at a single place.
Providing detail is not enough, you have to arrange the details in a way that your visitor can easily find the product.
If you earn Google ranking and the users are going back to the search page to find other details than it gives a signal to Google that your website doesn't have all the details.
So Google will assume that your website is not the correct place to send the traffic.
Internal linking of relevant products, categories and Resources
Internal linking of products and categories help Google to understand your website better. So always try to place relevant links and articles on your websites because it also engages the users on your website.
If you are showcasing headphones on your page then also place some relevant products and post on your website.
Manage Out of Stock Products
Never delete a product page from your website because if it is rank then the users will find it while opening this page and this negatively impacted your website.
You can tell your visitor that the particular product is out of stock and still you are feeling that deleting a product page is the only solution than implementing 301 redirection to the most relevant page.
Bonus Tip!
Ecommerce SEO can be managed in house but if you do not have a team then hire an established ecommerce SEO company. Having a dedicated team for your website can take its growth to another level.
Note: They will also help you to incentivize your customer through structured data and by maintaining reviews that don't look good on your website. You can also get in depth knowledge of it by joining Digital marketing institute in Laxmi Nagar