In the last few years, Social media space has evolved in an incredible way, and you know what the core of its evolution is? It is hashtags.
Hashtags have changed the way, how people find you, or you can say how people reach a group of brands of their interest. They can be considered as a label to your content that you post on social media. It drives the attention of the people who may be interested in your brands. Hashtag is consists of numbers & characters but not symbols.
Hashtag, a powerful tool to outshine your brand on social space
# is just a simple symbol with an unimaginable power hidden behind it. It can uplift your brand if used effectively.
Using # before your desired keyword makes your content attached to it, more visible to the large & unique audience by enhancing the brand visibility & its presence. Therefore, it makes your content discoverable by the people who are searching for something very similar to your brand and made it possible for the visitors to reach you who doesn't even aware of your presence in the social space.
Before moving any further, it is just to inform you that this article is shared by Nexcuit web solutions, which is a well-known Social Media Agency in Delhi. We aim to enlighten your knowledge regarding the importance & uses of Hashtags for social media marketing.
Let's dig in deep and check what kind of hashtags can be used for executing social media campaigns effectively.
So, let's check three of them thoroughly:
1. Trending hashtags:
Trending hashtags can wonders & blunders too.
Are you thinking that how it can create blunders? Actually trending hashtags are trickier than others. If misunderstood, it can diminish your brand image on social platforms. The proper study of hashtags is required before you fix to imply it. Make sure that the trending hashtag which you are planning to use for your next post is connected to your business in some or another way. Trending hashtags revolves around the hot or current topics discussed or shared by a large group of people.
For a clear understanding, you can take reference to the picture share below.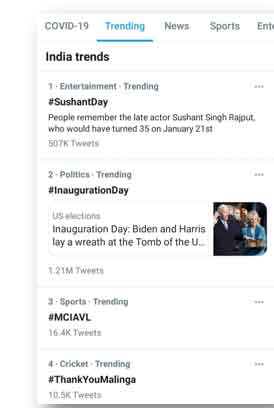 Brand & campaign hashtags:
Brand & campaign hashtags are basically used for marketing purposes. The ultimate goal of these is to reinforce brand identity on social platforms. These hashtags are developed by the brands to execute some contests, giveaways, or highlighting offers & discounts.
Creating a campaign hashtag doesn't mean that it has to include your brand name. The main thing is that whatever you create should revolve around your brand's identity & what you stand for.
Lays has given a perfect example of that. With a smart campaign idea, they were able to engage & reach a large number of users. Therefore, maximizes its identity in social space.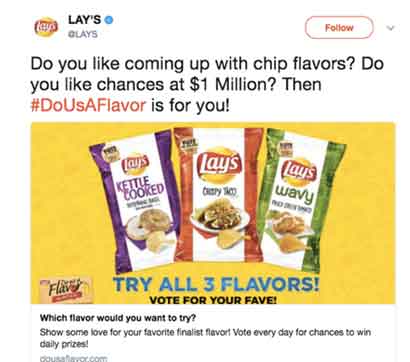 Content hashtags:
Have you ever read a bakery shop using #pineapplecake #cupcakes #chocolava after the content they have shared?
These are content hashtags that are used by the brands to show what their shop or content is all about. These hashtags are neither branded nor trending, these are the simple hashtags related to the brand.
These hashtags help to improve the SEO of your brand on social media platforms.
Below you can check how the content hashtag looks like & how it can be used for your business. With a few words as a caption, they have shared hashtags which are depicting the nature of business & what it is related to.
Wondering how to use hashtags on Twitter & Instagram?
Let's check it now!
Hashtags on Twitter:
As per the search algorithm of Twitter, using hashtags is the necessity if you want to viral the content which you have posted. But sometimes we get confused that how to use them in an appropriate way.
Check Also: It will be good if you learn affiliate marketing course in delhi yourself by Digital Marketing Course in Laxm Nagar
So the correct way to use hashtags on your Twitter account is to add 1-2 hashtags in your tweets. Overstuffing of tweets will confuse people about the brand. People love short & precise content.
Before you use hashtags in your content, make sure you check these few things:
• People should be searching about the hashtags you are planning to use so that they got to see your tweet. (You may not consider this if you are planning to create your own hashtag campaign.)
• Your hashtag should be more specific to your brand and its image.
The data shown above proved that content with 1-2 hashtags is more likely to get higher engagement and retweets than content with more hashtags.
Hashtags on Instagram: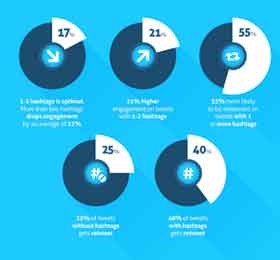 Using hashtags on Instagram is another best spot to get discovered by the people who are more likely to be interested in your concerned page.
Putting the right hashtags in your Instagram post can put your brand in front of millions of people in one go.
Check Also: SEO Company in Laxmi Nagar
Let's take an example of a traveling enthusiast, who loves to visit explore different places. That person shared those pictures with other hashtags including #beautifuldestinations. By using that particular hashtag he is able to catalog his post on Instagram for the people who are searching for it & is interested.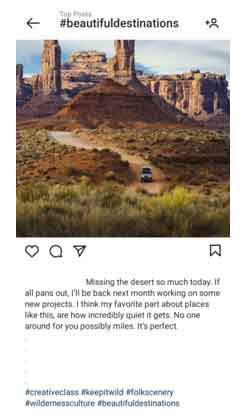 Proper use of Hashtags on Instagram can level up your game.
But there are few things to remember:
• Your profile should be public if you desire to viral your content or wants to build a brand presence. People cannot see what you are posting on your page if the account is private.
• Post with 11+ hashtags is more likely to get 12% more interaction.
• You cannot use more than 30 hashtags on Instagram posts & 10 on stories.
Wrapping up:
Hope this article has helped you in understanding what hashtags are and how can they help you to excel your social pages on Twitter & Instagram.
If you are thinking to enhance your brand visibility on social media pages and need some help, then you can get in touch with Nexcuit web solution, they are one of the best digital marketing service in laxmi nagar and has experience in executing successful hashtags campaigns on various social media platforms.
Let's get your brand discovered by many with the help of the best social media Agency in laxmi nagar. Contact Nexcuit at +91-9910326510.

Frequently Asked Questions (FAQs)
[WPSM_AC id=3623]