In this blog we will be experiencing how you can be at the top of google. Whether it is GMB (Google My Business Page) part or a normal ranking.
Before we rank first, let's understand what GMB and normal ranking is.
What is google my business page?
It is a page that lets you know about your business on google SERP. It comprises your business location, add, phone number and your customer reviews.
If you are just getting started with local SEO then it is a best and great way to expand your business.
If your search results appear on top of google's page on keywords like SEO services in laxmi nagar, or any local keyword such as best seo Course in delhi, then searcher's will likely to take your product & services.
What is normal ranking?
When it comes to normal SEO then it is a procedure of getting your website on Google first page.
So these are the ways to achieve potential customers for your business, so let's understand how we can achieve ranking on google.
I will try to be specific and clear about my SEO hacks!
Let's Start
Hack no: 1
Find out those keywords that are already ranking in Google serp page, why I am asking you to do that is because you will improve your average CTR.
Let me demonstrate this via example,
Assume your one keyword (seo company in delhi) is ranking on 4th position and second keyword (seo services) is ranking on 25th position, or in order to receive more traffic then you first need to work on the first keyword rather than 25th position.
If you do this then it will give you instant impact in your average CTR.

Fig-1.1
Hack no 2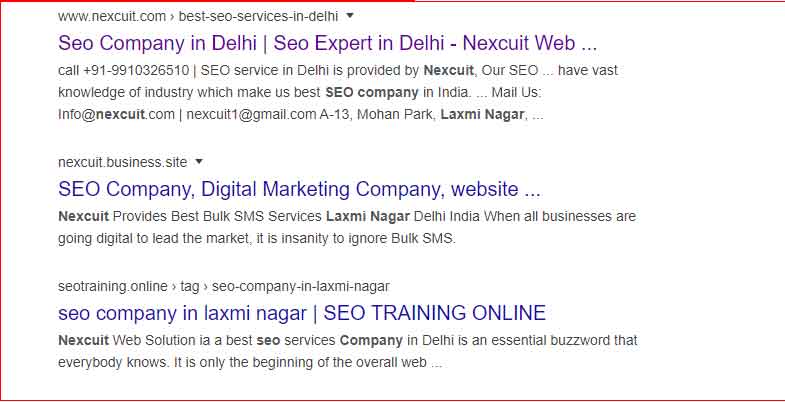 Figure out why your keywords are ranking outranked?
Fig-1.2
About Fig-1.2
↬In this fig aidm.org.in has ranked down on "seo expert in delhi" keywords due to apmle of factors.
Before ranking, our web page studied various factors, like name of referring domains, quality of backlinks and your website authority etc.
You won't be able to judge those factors until and unless you are experienced in search engine optimization.
Even there is one more significant thing that is if your content is not aligned with the users query then you are already dead in the water before you even start.
In fig-1.2
We have captured a screenshot of aidm.org.in search appearance, this screenshot refers about the random decline in ranking, after analysing them our team came to know that we were aligned with the searcher's query but we were not aligned with other search engine factors.
So only relevancy doesn't matter in ranking, we do need to cope-up with the other factors.

Hack no 3
Now take the plunge in the seo gaps, in Hack 2 we have talked about outranking of your keywords.
So in order to keep it up, you have to take a plunge in the seo gaps and seo strategies.
There are two things you need to perform before heading towards your seo strategies.
# Site audit (How you can take a plunge in seo gaps)
Audit is a method to check your website errors, it comprises ample of errors, such a duplicate site, canonical error, sitemap, robots.txt file and lot more
For the detailed info about the site audit go through this link.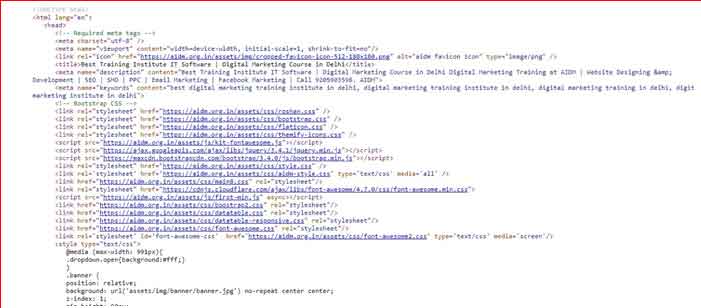 Fig- 1.3
# Road Map Creation
Now when you guys are done with your site audit then you should move on to road map creation
Let me give you a glimpse of the road map…
In simple term a road map is a structured way to deigned your monthly SEO task.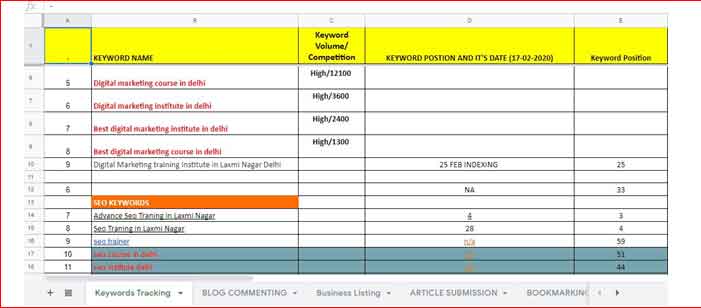 As you can see in the Fig-1.4 below
Fig-1.4
Hack no 4
Track your keywords ranking position, you can only perform this task via keyword tracking sheet. You can find this sheet here.
____________________________Ending of Normal SEO______________________

How to achieve ranking in Google My Business Page/ Google Map ?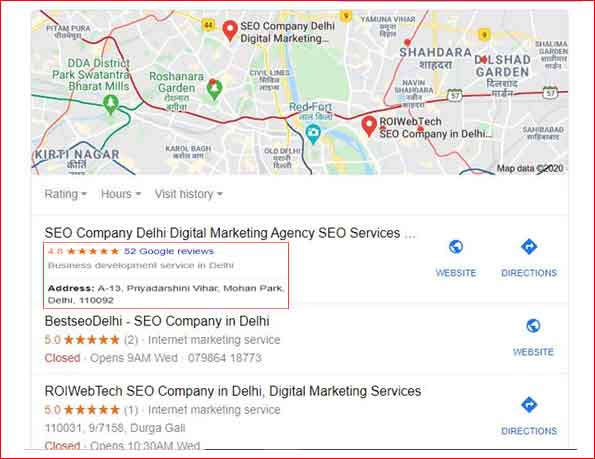 Define Google My Business Page!
It is a section of google's search engine, in order to show relevant local results to searchers. Local keywords like best SEO company in Delhi NCR it comprises local word like Digital Marketing Company in Delhi NCR
This is for sure that getting ranking on a 3-pack of google's map would be a profitable deal for your business. But it ain't easy to rank on.
Note: if you are not having a GMB page then you won't be able to come in the 3-pack of google's map. So it is recommended to have a listing on the GMB page.
Hacks to rank on google my business page?
Hack No 1
Consider using your main keyword in Google My Business Name.
This is comparatively a major ranking factor in GMB. For example, if someone searches for "Nexcuit Web Solution" on google then he/she will see Google My Page listing on the right side of SERP. Like as you can see in fig-2.2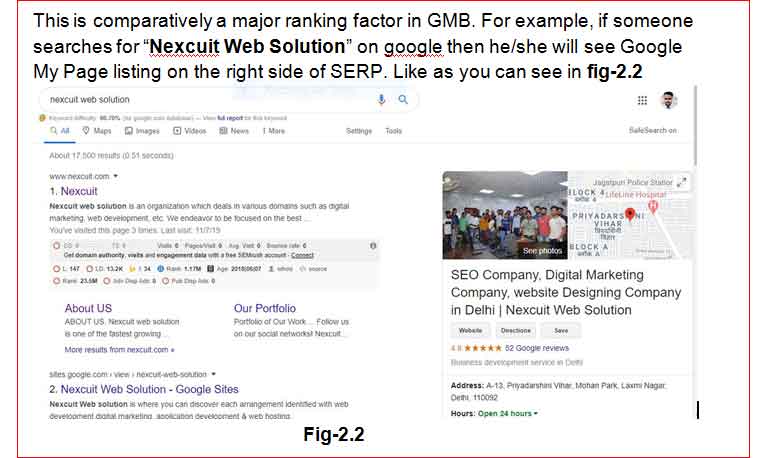 Fig-2.2
Hack no 2
Make sure your categories are correct and filled max: Most of the time people don't try to fill out the max categories in GMB, and that is a negative factor that affects your ranking on GMB.
This can assist you in increasing your impression counts.
Hack no 3
Build related citations: Those who don't know what citations are, so the citations are the list of those websites where you can list your business information in order to get your site indexed by search engines.
Hack no 4
Fix your on-page: This is a crucial factor that most companies neglect this part, so in order to be shown on the GMB page you have to make sure your on-page is perfectly ok!
Lot of people ask that SSL is required to rank high?
Not at all, this is just a saying, it is absolutely not. In order to rank high, you don't require an SSL certificate, your site needs to be mobile friendly or should have good loading speed.
The content on the cornerstone page should be optimized for SEO, you need to compare your site content with set off SEO lingoes like keyword density, prominence, or stuffing.
NAP information
This is also an important segment in SEO, NAP. Name, Address or Phone No.
This is a bonus tip for all my current readers, those who are reading this content have got a treasure of SEO hacks.
Hack no- 5
Get more reviews! Reviews are the prominent factors in ranking in Google My Business Page. Don't forget that users' behavior and click through rates are the most most important factors in the entire ranking when deciding who to rank. You can increase your business reviews by sharing links on different platforms. It is technically against google's policies to ask reviews for your business, if google finds your reviews unauthentic then he may blacklist you from the entire search engine result.
We would like to tell you if you guys are looking for an SEO consultant in Delhi to rank your website then you can approach us. Because we provide the best SEO packages in Delhi.
Contact us@ +91-9910326510
We hope that you guys have learned so many new things, let's keep learning and will see you in the next blog.
Thanks, Regards Nexcuit Web Solution
We hope that you guys must have done learn new hacks of digital marketing course in Laxmi Nagar.