Changes in the technology of the Search Engine algorithm over time and a rapid increase in online traffic due to the ease of accessing online content has attracted website owner towards SEO packages in Laxmi Nagar. Most of the people either, do not know how they can measure their online performance or, confuse between different SEO tools. In this article, we have pointed the most used SEO tools and why they are best?
Search engines love user reaction. The more your website is user-relevant, the more your website will be search engine friendly. Google ranks high who is more trustworthy and relevant, among others. Using some of the useful SEO tools, you can easily impress Google or other search providers to rank you at the top of their results.
We at Nexcuit work with many SEO experts and businesses. Depending on our overall SEO experiences, we have included the top 5 tools that can be a big game-changer for your online business.
1. Search Console by Google
We as an end-user sometimes consider free things useless, but this is not the case every time. Google gives a website measuring tool for freeknow as 'Google Search Console.' It is developed and maintained by Google that allows you to examine how Google reacts to your website? This tool was previously called Google Webmaster Tools.
Pros
If you are making a website yourself or through a webmaster, it's not mandatory that all pages will be okay after publishing. This tool gives you the exact error related to webpages and the way to handle that.
For any site owner indexing of pages will always be the ultimate aim. We can quickly check indexing, request for indexing of un-indexed pages and also request for de-indexing of indexed pages.
Things like loading time of website or individual pages, sitemap submission, site performance report analysis, optimizing the content through search analytics, understanding the user query and many more.
Cons
Search console does not give much information about user behaviour. It does not help to analyze competitor. We can not check off pages activity of any website through this tool.
2. Ahrefs – SEO software
Where Search Console has some limitation in measuring our competitor, Ahref fulfils all our need to analyze site performance. Ahref has its crawlers that get sites data. They index these data to its database. Ahrefhas got the world's second most crawled data after Google.

Company has developed tools like keyword planner, keyword difficulty, YouTube keyword tool, content explorer, domain comparison, site explorer, backlink checker etc. They use these tools to generate result from crawled user data.
3. SEMrush – All in One Marketing Tool
As SEO is also about measuring how your competitor is going, we require to have a measuring tool that can do a complete competitor analysis. Thanks to SEMrush, which helps the marketer to reach their competitor strategy. Whether its paid activity or free SEO activity, SEMrush gives every single report of the competitor website.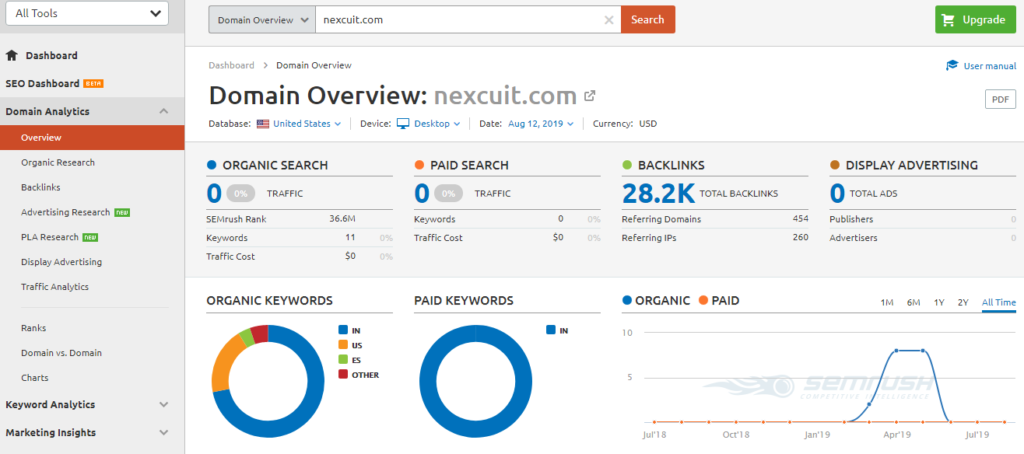 SEM rush is one of the world's most widely used digital marketing software. It allows us to do activities like brand monitoring, social media tracking, link building, site audit, position tracking etc.
SEMrush like ahref helps in improving SEO traffic and ranking. It has more keyword in comparison to ahref in its database. User can do a site audit, in-depth keyword ideas, backlink ideas, domain comparison, and so on.
4. Moz – SEO tool
I have been using Moz since I was new to digital marketing. I used to use it for checking the authority of domain and web pages. But, Moz is not limited to this feature only. It's a all in one SEO tool that helps in keyword and link research, technical site audits, SEO insights & reporting. It is used for many other SEO activities.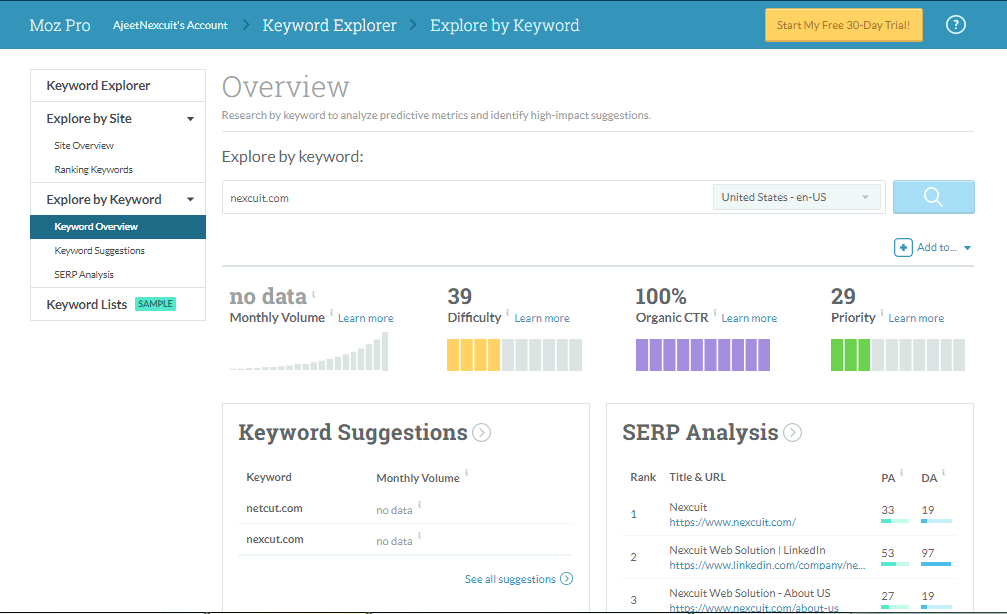 Moz has its keyword planner to give you detailed keyword research. User can do link profile analysis using Mozmatrics. It fixes most of the SEO error on web pages to quickly boost SEO ranking. It helps your content boost ranking by its content explorer by examining most performing content in your niche. All the support plan has got full support to help you rank good.
5. Uber Suggest – by Neil Patel
You might not have heard about Neil Patel if you are new to Digital Marketing. A person who comes next to Wikipedia in the most difficult keyword of online advertising. His keyword 'Digital Marketing' and similar other keywords come always on top of SERP in SEO ranking. Apart from being a digital marketing tycoon, he runs multiple companies and 'Uber Suggest' is one of them.
Unlike SEMrush, ahref and Moz, Uber suggest is free to use multi-purpose SEO tool. Its very effective tool for beginner and content ideas. It does have features similar to ahref, SEMrush and Moz.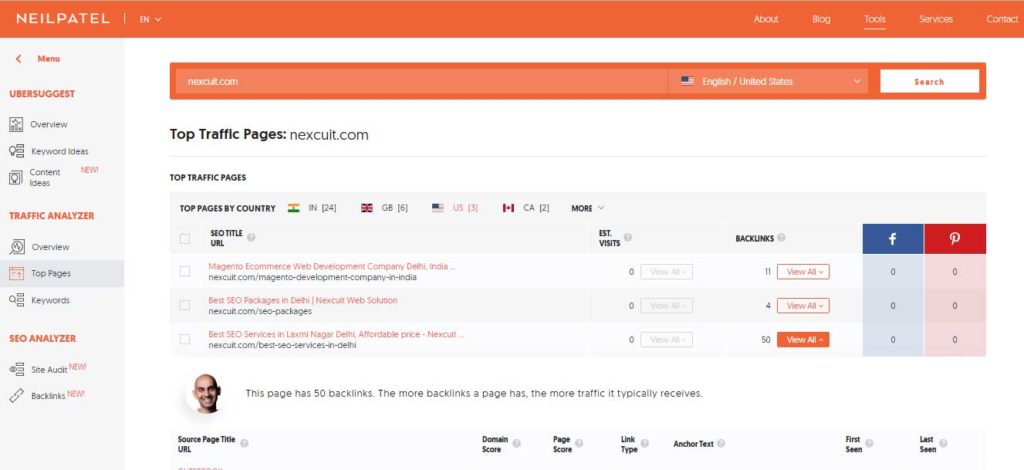 There are so many other SEO tools available in the SEO market but above 5 are mostly used. All the tools come with some pros and cons. A user can choose the right tool depending on his traffic type, objective, budget and requirements.
At Nexcuit, we offer free website analysis, generate a free report and also send free competition analysis. Our SEO expert can also help you choose the best SEO tool for your business or blog.
Not only SEO, you can master social media marketing by joining Social Media Agency in Delhi.
Does your SEO Company in Delhi give you a course of events? Some Digital Marketing Company in Delhi offer SEO plans that guarantee to place you in the absolute first page of query items in simply an issue of 10 days.
It will be good if you learn SEO Course in Delhi yourself by joining the Digital Marketing Course in Laxm Nagar.
Recommended Blog: