(Promotional SMS | Transactional SMS)
Best Bulk SMS Service Provider in India – Boost and push your business to get maximum traffic on your Apps and Websites via Bulk SMS. Nexcuit.com is providing premium Bulk SMS Services to make it easy for clients to send Bulk SMS to multiple people in an instant of time, without facing any difficulties.
Nexcuit Premium Bulk SMS Service is designed for promoting your products and services. Connecting to potential customers and clients is the main objective of Nexcuit. Availing our Bulk SMS Service connects you to the team of highly trained and professionals who knows what exactly to do according to your needs. The best thing about Nexcuit is the flexibility we give to the clients to send SMS to their customers at anytime from anywhere. Only you require good internet connectivity to avail this. You can avail Bulk SMS Service Provider in Delhi at effective rates with the relative ease of mechanism. Grow your business by using simple steps and at highly effective terms.
A comprehensive marketing strategy is a perfect way to achieve excellent results in order to reach potential customers and to increase the growth of an organization. Nexcuit provides effective marketing strategies to grow the business of small to large companies and organizations via leading Bulk SMS technology. Nexcuit Bulk SMS Service Provider in Delhi is an economically competitive and user-friendly marketing solution.
What is Bulk SMS Services & How Businesses use Bulk SMS Services?
Bulk message or Bulk SMS Services refers to send SMS to multiple recipients via API/Software/web platforms, such as Nexcuit.com. Usually, Bulk SMS are of two types Promotional Bulk SMS and Transactional Bulk SMS. Businesses use these services to schedule, create, and send SMS campaigns to customers to do marketing of their products and services.
Most of the companies, organizations, and developers use Nexcuit Bulk SMS Service for feedback, OTP, notification, transactional alerts, communication and promotion.
Why businesses need to use Bulk SMS Services?
Nowadays, SMS has +90% high open response rates compare to 20% open rates for email. You can improve website engagement, conversion, and sales by adding links within the SMS. Nexcuit is on a mission to be a Best Bulk SMS Service Provider in Delhi by making Bulk SMS Industry simple, less costly and transparent. We designed our Bulk SMS Service platform to help small to large organizations owner who want to send alerts, multimedia, OTP, marketing, and promotional SMS.
Difference between Transactional SMS and Promotional SMS Services
| | |
| --- | --- |
| Transactional SMS | Promotional SMS |
| Used for Notifications, Alerts, API, and OTP. Ex. Bank Transactions etc. | Used for purposes, branding, and marketing. Ex. Offers, Sales etc. |
| SMS can be delivered DND + Non-DND numbers. | SMS can be delivered only on Non-DND numbers. |
| Transactional SMS can be sent anytime in a whole day. | Promotional SMS can be sent between 9 AM to 9 PM only, according to TRAI regulations. |
| Ex. Dear User, Thank you for registration, your OTP is 5596. Login Now. | Ex. Dear User, Sign up Now & Send Free Bulk SMS in India at effective rates using Nexcuit. |
Nexcuit is a Bulk SMS Service Provider in Delhi which offers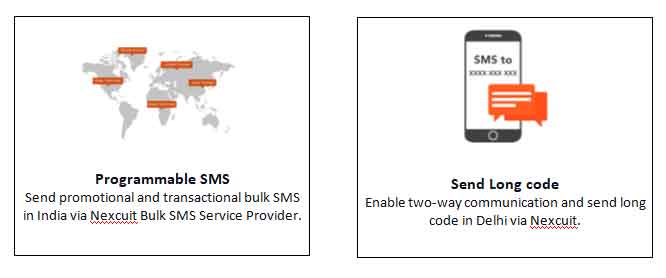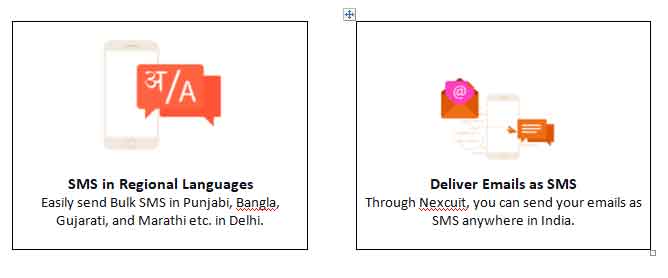 Why use Nexcuit Bulk SMS Services?
Nexcuit Bulk SMS Service is powerful, simple, and easy to use. Organizations and Businesses can easily compose and send promotional and transactional SMS to an individual or multiple contacts at a time from Nexcuit.com
Nowadays most of the small and large-sized businesses and organizations are using Bulk SMS Services to reach new potential customers and to communicate with their clients. So don't be too late to reach new potential clients, start using Nexcuit Bulk SMS Services as your preferred marketing and communication system.
Nexcuit.com increases the awareness of your brand around the world via Best Bulk SMS Services. You can easily reach to the new clients and make your customers updated through our Bulk SMS reseller in India.
Things You'll Achieve by using Nexcuit Bulk SMS Services

High Lead Conversions
Double your lead conversions by reaching to new potential customers.

Authentication for Your Service
Send OTP SMS on Sign-Up and Log-In, and secure your product and services with Two-Factor Authentication.



Reliable Communication System
Use the reliable communication system of Nexcuit Bulk SMS Services.



Retain Existing Clients
Send regular updates to existing customers in order to retain the customer base effectively.
Nexcuit is the Best Bulk SMS Service Provider in Delhi at a most competitive rate.
Test the Best Bulk SMS Service Provider in India
24*7 Customer Support
Nexcuit with the Best Bulk SMS Service Provider in Delhi also offers always responsive and available support for clients.
Assistance during setting up your account and sending SMS, instant credits, 100% uptime guarantee, minute-maid setups, immediate reply to your queries, and support for more reliable features are exclusively available only for our clients.
Our Commitment
We commit you'll not face any issue with the Best Bulk SMS Service Provider in Delhi. Our Bulk SMS Services can easily fulfill your business needs.
We assure you to give the best Bulk SMS Service for reaching your audience securely, quickly, and efficiently.
Exceptional Service

It's our main responsibility to give our clients the best customer support and the most reliable performance with an exceptional SMS experience at best competitive rates.
Just contact us with your query or issue at any time and get your queries resolved immediately.
Recommended Blog: